With this complete build guide, Guru's goal is to provide the best gaming PC build under $1000. PC Gaming has come a long way and has so much to offer to the gaming community in comparison to the consoles. 4K HD resolution, constant 144FPS, free-to-play exclusives and much more.
PC Games have more variety and more intriguing titles too. A lot of games are cheaper on PC in comparison to the consoles. With that said you don't have to pay for playing the multiplayer like you have to for PS and Xbox. And gaming on keyboard and mouse just feels right! If that doesn't turn you on you have the freedom to choose the input to your liking.
PC Gamers also have to option to upgrade their setup whenever they want to allow them to stay up to date and enjoy whatever games they want. It's 2021 now and If you are looking to upgrade or want to switch to PC Gaming, we have just the right thing for you.
Since PC Gaming can be a bit too expensive we decided to select PC Specs while maintaining a budget of a $1000. This PC Build under $1000 is expected to be able to run games for a few years ahead with good performance without compromising on the quality. We had to sacrifice the aesthetics such as RGB to make the PC build as much cost-effective as possible.
1. Gigabyte Z370p D3 Motherboard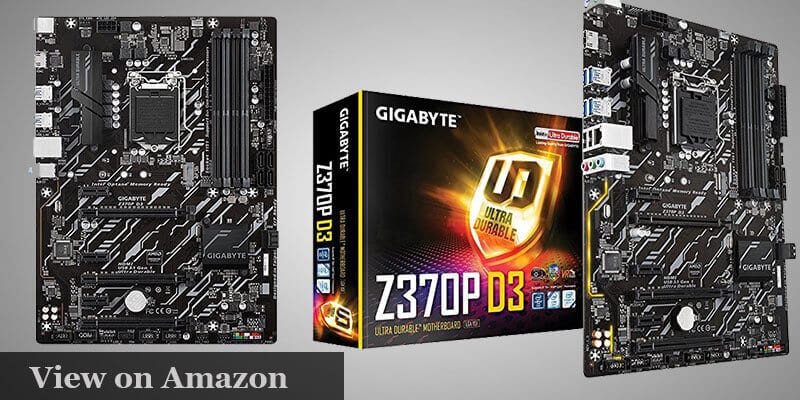 The motherboard is one of the most crucial components when deciding on what kind of PC Build you will be aiming for since selecting this could play an important role in when and what upgrades you might be looking for in the future.
Even though a B250, Z270 or even an H110 chipset motherboard would still suffice and be able to handle gaming by today's standards, but with the Intel's latest Coffee Lake processors out, I decided to go for a Z370 motherboard for this build.
I had a lot of options to fulfill this requirement but since I had a budget to look onto I decided to go with GIGABYTE Z370P D3 Motherboard from the Ultra Durable Series. GIGABYTE Z370P D3 motherboard seems to have a good performance. And has certain nice features and is quite cheap in comparison to its competitors.
This motherboard supports DDR4 memory and has 4 DIMMs supporting up to 64GB of RAM with a maximum speed of up to 4000 MHz. This motherboard supports AMD Quad-GPU CrossFireX™ and 2-Way AMD CrossFire™ technologies. It also features Intel's latest Optane technology.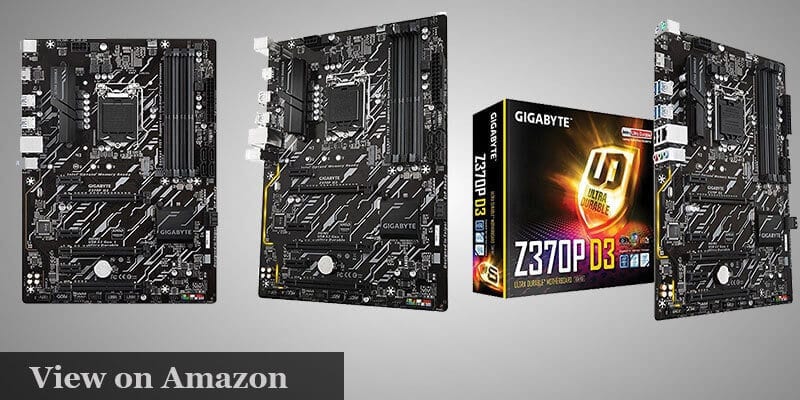 Optane fuels storage performance by acting as a cache drive giving users a significant boost compared to the usual mechanical drives. It also has an M2 connector and supports both PCIe and SATA interfaces for M.2 SSD devices.
There is the feature of cooling Smart Fan 5 which can be used to customize the cooling mechanism. The motherboard doesn't have RGB LEDs but it supports RGB LED Strips should you care to add them. Other basic features include:-
This motherboard costs under $100 and has most of the features offered in other Z370 motherboards. It is the cheapest motherboard available in the market having the support for Intel's 8th generation processors.
Not only is this a great option for a mid-end gaming PC Build under $1000 but it is pretty good when going for a high-end PC Build. It lacks some features such as the RGB aesthetic and built-in Wi-Fi. But the RGB Fusion provides support for RGB strips and we won't be using Wi-Fi to connect our PC.
2. Intel Core i5-8600k CPU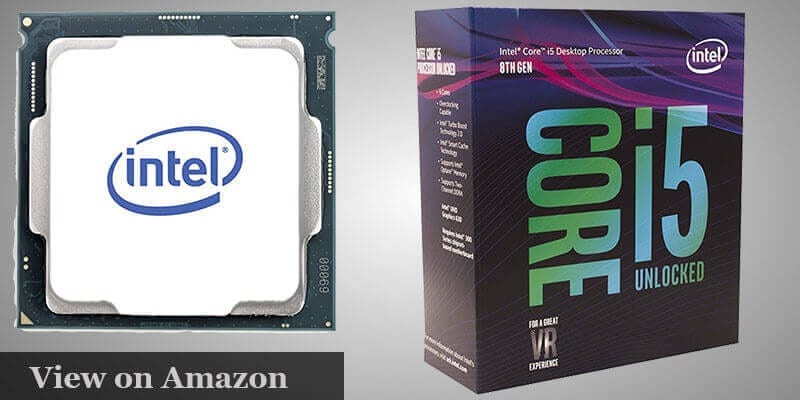 Intel's Coffee Lake processors are amazing and are much better than their predecessor Kaby Lake Processors. The Coffee Lake series was released in October 2017 and is not as popular as Kaby Lake.
Because of the fact that it doesn't work with the motherboards that support 6th/7th gen processors and require the new Z370 motherboards. This makes them not a very welcoming upgrade from the Kaby Lake package if you already own one. But if you are going for a new PC Build under $1000, and since we are, we will definitely be choosing the better!
This processor has a base clock of 3.6GHz and a turbo clock of 4.3GHz with 6 cores, 6 threads and L3 Cache of 9MB, in comparison to i5 7600k which has a base clock of 3.8GHz and a turbo clock of 4.2GHz, with 4 cores, 4 threads and L3 Cache of 6MB.
Other features include UHD Graphics 630 and support for Intel Optane Memory. The i5 8600k performs significantly better than i5 7600k and is only slightly more expensive.
In some games the difference of the performance is not so apparent such as ARMA 3 and Battlefield 1 show a slight boost in FPS, however, some games such as Watch Dogs 2 and The Witcher 3: Wild Hunt, show a significant difference in performance. The Cinebench R15 test shows a significant difference in performance as well.
This processor costs under 300$ which in comparison to its predecessor is quite a lot but for this performance boost, I believe its totally worth it. However, when compared to its competition i.e. Ryzen 5 processors this is quite expensive.
With the Ryzen 5 1600x you get a base clock of 3.6GHz and a boost clock of up to 4.0GHz with 6 cores, 12 threads and L3 cache of 16MB, and it costs you 50 dollars less. In terms of price, Intel didn't do a very good job.
3. ASUS GeForce GTX 1060 Graphics Card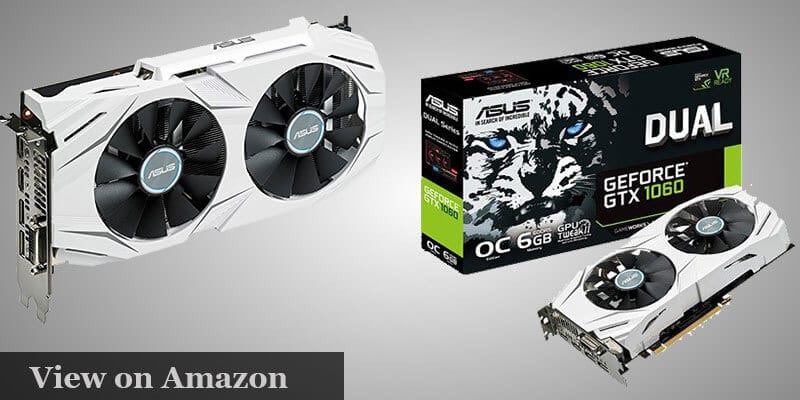 When taking the PC Specs for consideration for your new PC Build, it is most important that you be careful while purchasing the GPU since this affects your whole build in a lot of ways.
If you buy a GPU that is way out of a league of your CPU you might end up with a bottleneck. If you buy a GPU that requires a large amount of power consumption you might have to look over the PSU you will be using for your build. Both of these factors imply that your PC Build may get more expensive.
Ethereum mining is finally dying which means that GPU prices are almost back to normal. When choosing the graphics card I had many options – RX 570, RX 580, GTX 1050Ti and of course the GTX 1060.
You can't go wrong with either one since all of them have good performance. But there was something about the GTX 1060 which drew me closer to it. The performance per buck ratio was significantly larger as compared to the rest.
The GTX 1060 has more base clock, boost clock and memory clock speeds than the others. In terms of shading units and memory bandwidth, RX 570 and RX 580 are quite good but the price of either of those is significantly higher than GTX 1050Ti and slightly less, if not equal, to GTX 1060. The GTX 1060 has a TDP of 120W which adds up in the favor of it whilst saving us some buck.
The RX 570 and RX 580 have more memory than both the GTX 1050Ti and GTX 1060. But 6GB is a sufficient amount of VRAM and suffices for any game that is more VRAM hungry. Consequently, GTX 1060 stands out as the winner in terms of specs.
Taking a look at the in-game performance of each graphics cards we notice that GTX 1060 outperforms both RX 570 and GTX 1050Ti but the difference in the performance of RX 580 and GTX 1060 resulted in a tie.
GTX 1060 had better performance in games such as DOOM, GTA 5, Total War: Warhammer. RX 580 outperforms in games such as Battlefield 1, Rise of the Tomb Raider and Hitman.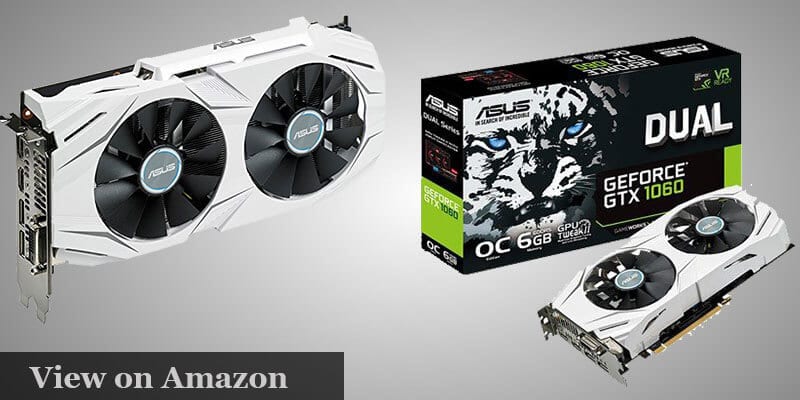 One thing was prominent, however; the RX 580 performs better at games which are more memory dependent and the FPS difference at 1440p is significantly in favor of it. At this point, I had to look at the benchmarks for both of these GPUs and GTX 1060 came out slightly better than the RX 580.
The ASUS GTX 1060 6GB cost me Under $300 which was slightly more expensive than the most of the RX 570 variants. And almost equal to the RX 580 variants.
In comparison to the 1050Ti variants, it was quite expensive which is no surprise since the in-game performance was quite significant and the benchmarks displayed a significant difference in the favor of GTX 1060 as well. So in case you are own a GTX 1050Ti and are looking to upgrade your PC Build, the GTX 1060 6GB might be a solid choice.
4. EVGA 500 BQ 80+ Power Supply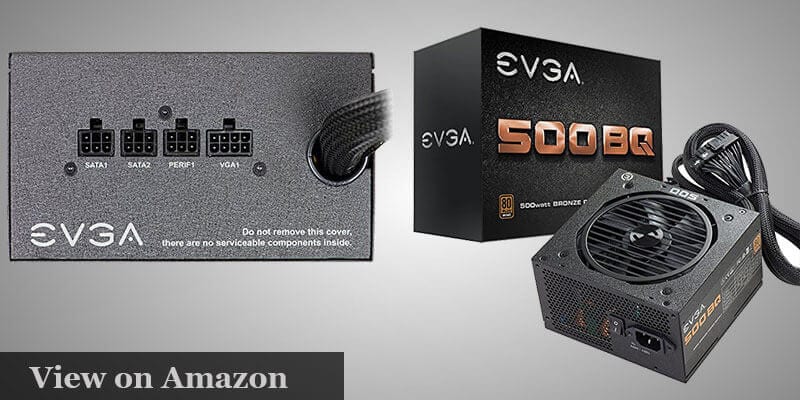 PSUs are another of the core elements when going for a gaming PC Build under $1000. Your entire build depends on it for power consumption.
For high-end PC build, one would usually go for 600W, 700W or even 850W. Since this could provide more upgrade options in the future. But with this build, you won't be upgrading for a while. So we decided to go for a more budget-friendly PSU i.e. EVGA 500 BQ, 80+ BRONZE 500W.
EVGA has some great PSUs to offer whether it be for mid-end or high-end gaming. The performance and durability EVGA has to offer are unmatched in comparison to several PSUs.
It is also quite cheap and compact i.e. 150 mm (W) x 86 mm (H) x 140 mm (D). This PSU comes with braided wires and comes with a semi-modular design, making the wire management much better.
This PSU offers protection from Over Voltage, Under Voltage, Over Power, Over Temperature, Over Current and Short Circuit. The cooling fan is near quiet and keeps the temperature below 40°C.
This PSU has a price under $50 and comes with a three-year warranty, its a solid choice for our PC Build under $1000. In comparison to other PSUs in the market, you will be getting more out of your buck.
5. Crucial Ballistix Sport 8GB DDR4 RAM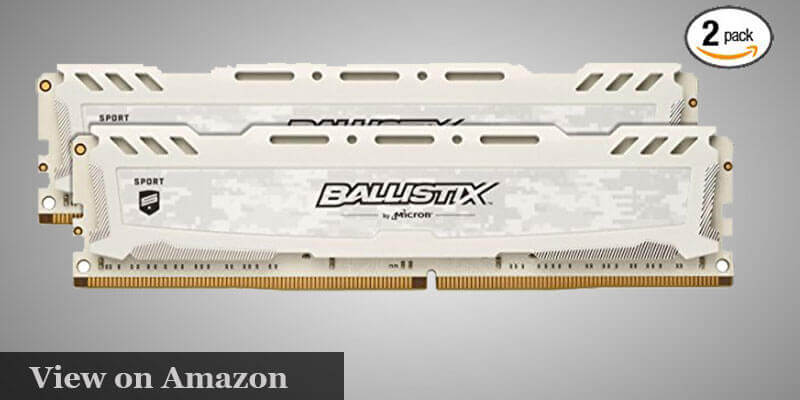 When selecting RAM most of the people don't usually care about what company they are going for. Then there are those who go for Corsair LPX Vengeance or any other options that have RGB lightning.
But since we are going for a more cost-efficient PC build under $1000 here, we had to select a RAM without compromising on performance and maintaining the tight budget we were under. And Crucial Ballistix Sport 8GB DDR4 RAM @ 2666MHz (2x4GB) seemed to hit the spot.
The Crucial Ballisitx Sport 8GB DDR4 RAM has faster speeds and responsiveness than standard DDR4 memory. The modules stand 42mm tall and fit in easily underneath large cooler.
The performance of Crucial Ballistix Sport is quite good in comparison to most but in comparison to some such as the G.Skill Trident Z and Corsair Vengeance, it doesn't do that great.
However, the difference in performance is not that big and shouldn't be a turn off for most of you. The memory modules with a speed of 3000MHz or more don't seem to have a significant difference in performance. This package cost me Under $100 which is average for 8GB DDR4 RAM.
6. Seagate BarraCuda 2TB Hard Drive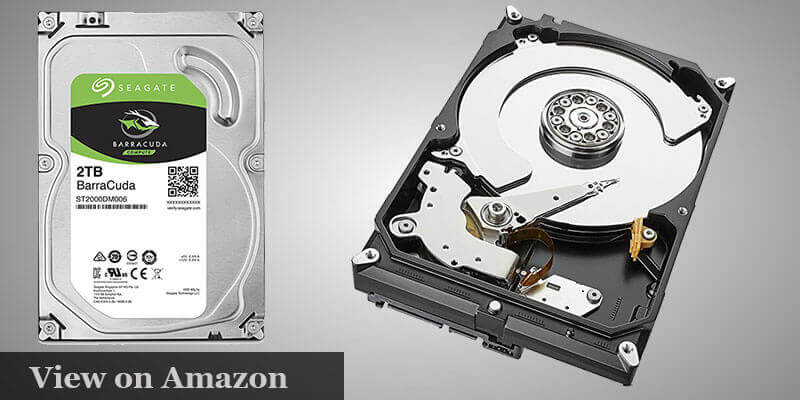 HDD is where we will be storing our games and of course. When it comes to HDDs, Seagate BarraCuda is just the best. It has a standard size of 3.5", a spin speed of 7200 RPM, 64MB cache size. it supports a transfer rate of up to 6GB/s making it the fastest HDD available in the market.
The BarraCuda brand is so much better in terms of performance and is energy efficient. The boot timings on Seagate BarraCuda 6GB/s are much faster than on WD Caviar and WD Velociraptor.
Games now a day tend to take a lot of space on the storage. GTA 5 takes up to 120GB, Final Fantasy XV Windows Edition takes up to a 100GB, Rainbow Six Siege takes up to 90GB with its new updates. Similarly, on average every game being released takes up to 50+GBs of space. Thus sticking with a 500GB or 1TB wouldn't be very wise. Also, the 2TB has a price slightly higher than the 1TB variant.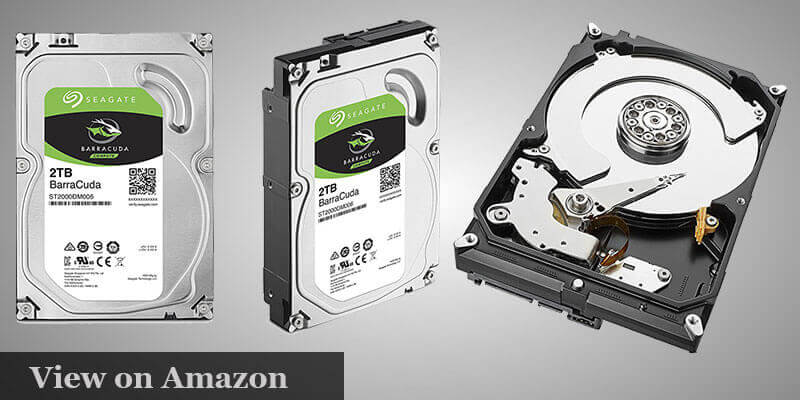 This HDD cost me under $60 which is a great deal for the buck since 1TB HDD costs just a few bucks less.
The WD Caviar variants cost around the same but the BarraCuda maintains a good performance per buck ratio. However, If you can avail WD Caviar with similar specs as the BarraCuda XT 6GB/s for a lesser price, then go for it. The Seagate BarraCuda comes with a 3-year warranty.
7. Adata Ultimate Su800 SSD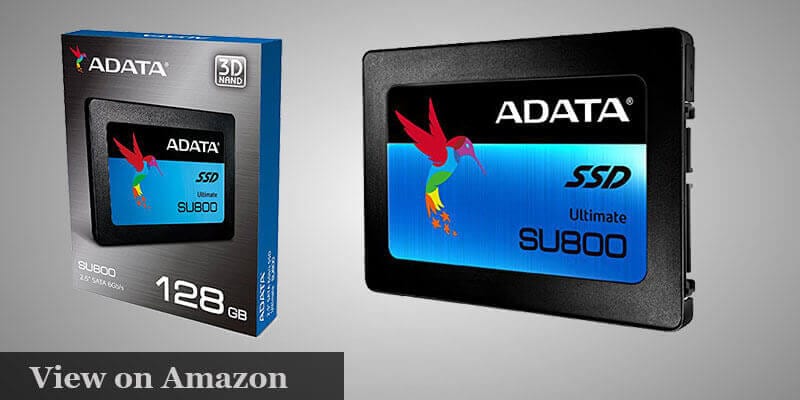 SSDs are much faster in comparison to HDDs and relatively quite expensive as well. While going for a modern PC Build under $1000, SSDs are installed for the purpose of storing and running the operating system. This makes the PC boot faster and the operating system work better.
ADATA SU800 is the first SSD from the company itself to utilize 3D NAND. 3D NAND flash is a type of flash memory in which the memory cells are stacked vertically in multiple layers.
Flash memory was developed to address the problems encountered in scaling 2D/planar NAND technology to achieve higher densities at a lower cost per bit. Performance-wise this SSD is not so different from others. In fact, there are much better alternatives in the market right now. But it's cheap and it gets the job done. Few of the features of ADATA SU800 are:-
Key Features
New generation 3D NAND technology
R/W up to 560/520 MB/s
Dynamic SLC Caching and DRAM Cache Buffer for optimized performance
RAID Engine & Data Shaping for ultimate protection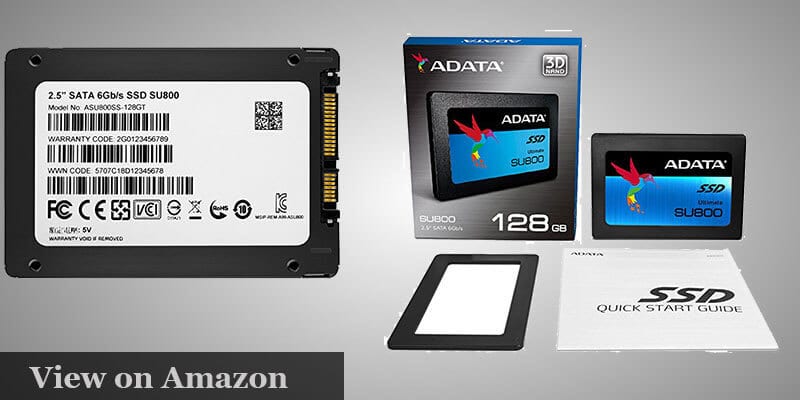 ADATA SU800 cost me under $40 which is cheaper in comparison to the ones offered by Kingston, SanDisk, other manufacturers. However, you are sacrificing performance. This SSD comes with a 3-year warranty.
8. InWin 101 ATX Computer Case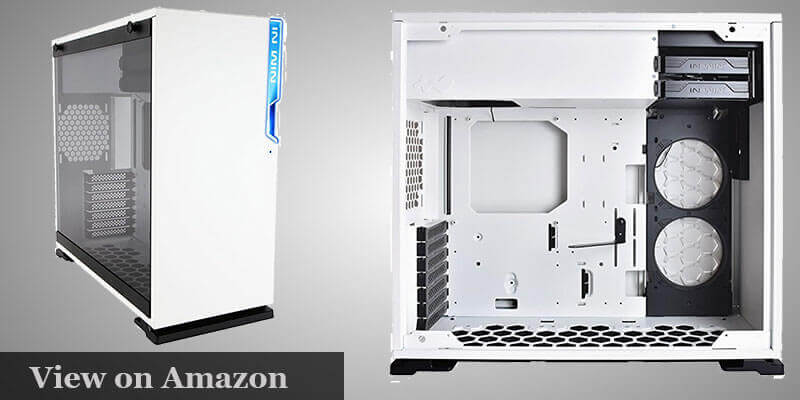 It's tricky getting chassis that is both pleasant to the eye and is budget-friendly for your PC Build. Options offered by Corsair, Thermaltake and Cooler Master are too expensive. A good looking but cheap chassis offered by either of these recognized companies would be at least of $100.
To go for a budget-friendly build and selecting a chassis that would be durable, have options for installing fans, have support for cable management and be charming to the eye were the goals I had in mind while going for this build. I succeeded in fulfilling most of them.
InWin 101 ATX Computer Case is a mid-tower case that comes with two models, the 101 and the 101C which is the same chassis but with RGB. The chassis comes with a detachable tempered glass side panel requiring no extra tools to open. The front panel, just like the rest of the computer case, maybe black or white.
The chassis is 445mm tall, 220mm wide, 480mm deep, and it weighs 7.25 kg. It supports ATX, micro-ATX, Mini-ITX and some E-ATX motherboards as well. It doesn't come with its own cooling fans but it is capable of housing up to six fans, one 120mm fan at the back of the chassis, two 120mm fans at a side panel and three 120mm fans at the floor of the chassis.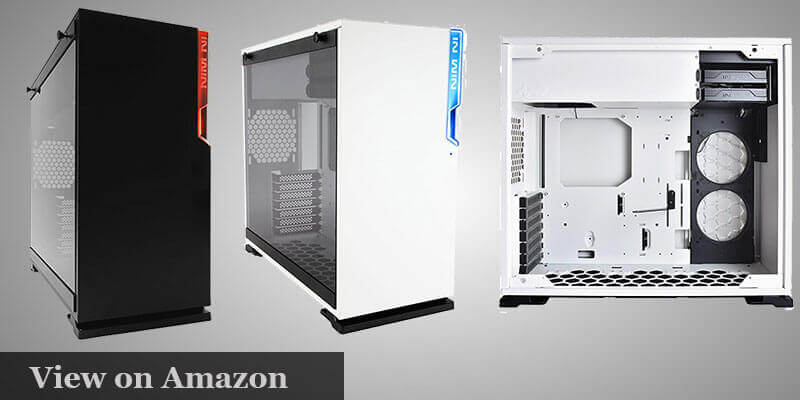 There are seven expansion slots at the back of the chassis and on the front bezel. InWin 101 ATX has a pair of USB 3.0 ports and 3.5mm audio jack. Cable management is not a strong point of this chassis since this case is much smaller than regular ATX cases.
This case costs me under $100, which is pretty good. Considering the features it comes with and the build quality of the casing. There aren't many cases that offer this much within this range.
9. DeepCool NEPTWIN Fan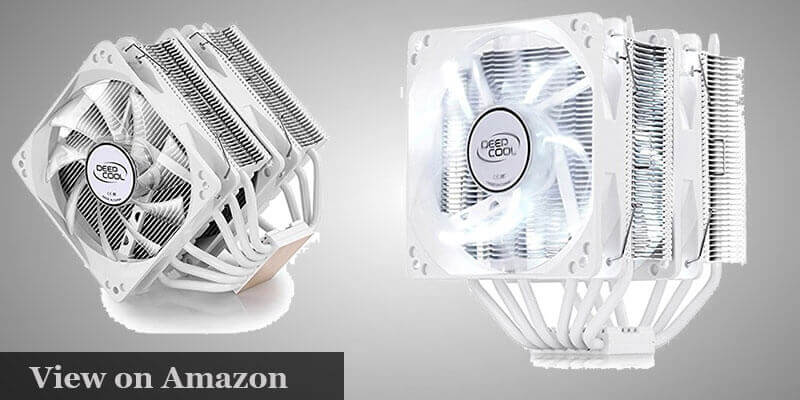 When it comes to a gaming PC Build under $1000, stock CPU coolers are not sufficient anymore. Selecting the right CPU cooler can be tricky as there are a lot of options to choose from. The CPU cooler I chose is quite cheaper than the well-known brands offered by Cooler Master, Thermaltake, e.t.c.
The DeepCool NEPTWIN V2 is a very well-made, high-quality cooler and it's beautiful. Dimension wise the size of the cooler is 5.4 x 5.0 x 6.3 inches. The DeepCool NEPTWIN V2 Cooler comes with a with two tower heatsinks, six heatpipes, and two 120 mm fans. The fins of the fans are made out of aluminum, the base out of nickel-plastic and heatpipes out of copper.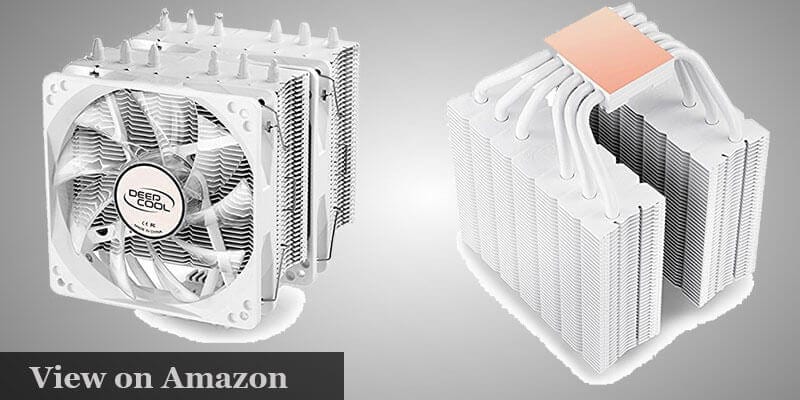 This CPU Cooler has everything you could ask for; it has two fans but in case of facing a conflict with the positioning of memory modules you could install just one (of course we won't be facing that because of our memory module choice!),
the twin-tower heatsink adds up to the cooling performance, a copper base that makes proper contact with CPU and 6 U-shaped sintered metal powder heat pipes rapidly conduct heat from the CPU to prevent overheating.
This CPU Cooler cost me under 70$ which is normal for a CPU Cooler with 6 heat pipes. But the build quality and the performance make up for more than that.
Other Optional
Arctic Silver 5 Thermal Paste
Arctic 120mm Fans
RGB LED Strip