Last Updated on March 24, 2021 by Justin
When it comes to purchasing a gaming laptop under 600 dollars our intentions slightly start moving towards having better resolutions, display, latest processor generations and above all SSD hard drive.
There are several factors that are important to look into a gaming machine before stepping out to actually purchasing it. And indirectly we march towards increasing or decreasing the total price of a gaming laptop.
Like, for a pro gamer, a good CPU, GPU, Latest processor generation and SSD hard would be the most important factor. For a day-to-day task better battery backup, multi-tasking, weight, audio, and video display would be a major aspect to grab in.
And if you want to get a mix of both, occasional/average gaming and executing other normal tasks, then you need to open your mind and sharpen your glance. As you are embarking on a difficult mission which surely going to eat up lots of time.
The list that I have made definitely helps you to choose the top gaming laptop under $600. These Laptops provide excellent gaming performance and can also be used for other tasks like video and photo editing.
I have spent several sleepless nights in reading reviews, searching for machines and checking the rating to pen down the best list which could add values to your gaming life. So without further ado,
Here are the Best Gaming Laptops Under $600 in 2021:
If you want to stand out in head to head gaming and want to grab a super-sturdy gaming laptop, ASUS TUF FX505 is a hands-down option for you.
The ASUS family's FX line-up is a well-known series in the gaming laptop world. The previous FX504 was a gem and now, an upgraded version is giving toughest time to even premium series lines.
This is one of the best gaming laptops under $600 which comes with the Latest GeForce GTX 1650 Graphics card that makes it enough power to overthrow high-ended latest video games. So, in the close competition of the latest games, the fastest response will edge you and will clear the way to become a winner.
This powerful gaming laptop has a Quad-core AMD Ryzen 5 R5-3550h Processor, a special built for gaming needs. When it comes to catering gaming needs, the processor stands heads and shoulders above. You won't experience lag with performance with this processor either due to its high speeds and gaming centered build.
The ASUS latest upgraded gaming laptop under 600 comes complete with a 256GB of SSD storeage. Meaning the memory files on the laptop will be accessed much quicker than a standard HDD. The storage is good to go, helps you store many games at boosted reading/writing speeds. The laptop comes with an 8GB DDR4, enough to make you go through any level of multi-tasking without freezing.
The laptop comes featured with a 15.6 inches Full HD with IPS panels display. The resolution of the display falls at (1920 x 1080) pixels. The NanoEdge design of the screen offers even a thinner bezel and impressive immersion experience.
The display is all for creating smooth clearer brighter images on the screen with impressive color-production. Yes, the impressive specs also include a full-fledged RGB backlit enabled keyboard. The keyboard offers a nice tactical experience, with good keys travel.
This laptop also powered with an advanced cooling system. The ADC system expels harmful dust from the chassis and prevents your system from overheating with increasing the stability and lifespan.
Gaming Benchmarks

If you really want to experience a real power and seamless video gaming experience, bring Lenovo IdeaPad L340 Gaming laptop. The laptop hits the right chord and offers a splendid specification to amaze you. This 600 dollar gaming laptop is a fine choice if you want to play the latest high-ended games with zero freezing errors.
The gaming laptop visual department is powered with NVIDIA GeForce GTX 1650 graphics card. Bring hottest titles in your gaming zone with the latest GTX graphics card behind supporting you. With it, you can outshoot, outsmart and outplay your competitors and stands out in the battle.
The gaming laptop comes with 9th-generation Intel Core i5 processors. With the processor, you will have seamless processing performance, have this processor onboard, and a new dimension of gaming performance awaits you.
The device has an 8GB DDR4 RAM to share and 512GB SSD to include. Both the specs are ideal and out specs other gaming laptops in the competition. The laptop shares a 15.6-Inch Screen that delivers stunning visuals on the screen with 1920 x 1080 resolutions.
The most loved and touted spec of the gaming powerhouse yet remain unsaid. With Dolby Audio advanced technology, you see this gaming machine offering new sound dimensions.
This gaming machine is a fine grab, allows you to take your gaming experience to the next level, and offers smoother seamless disruption-free gaming exposure.
Gaming Benchmarks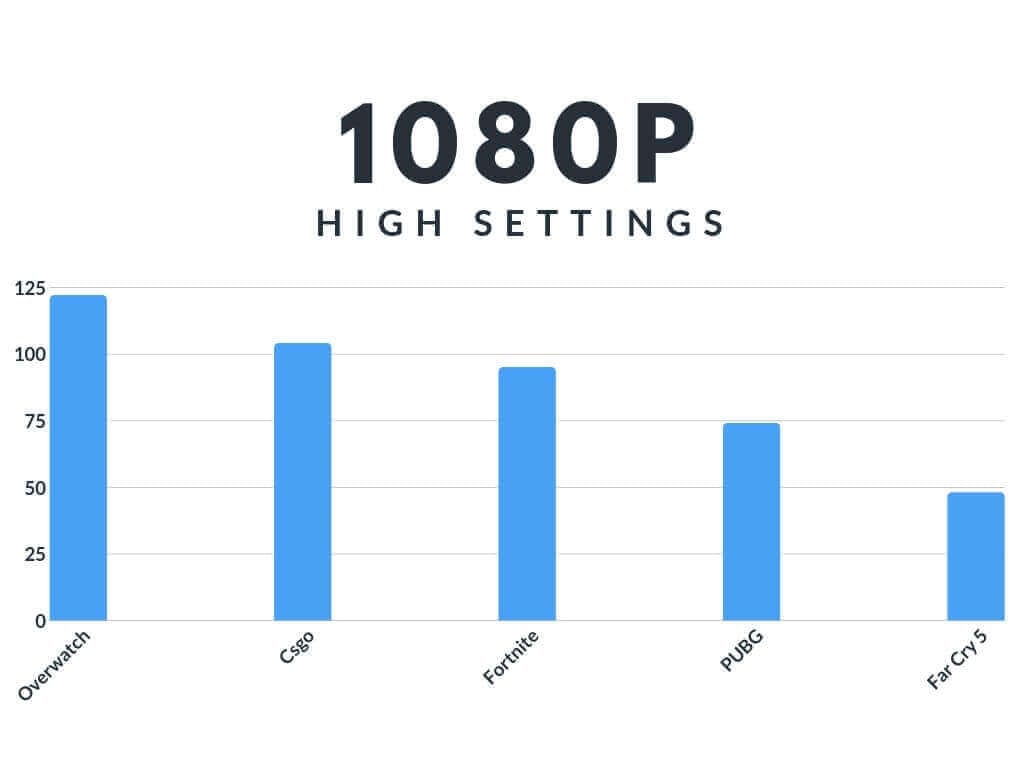 Under 600 dollars you deserve a great gaming experience and this could only be possible if you get an Acer Nitro 5. The laptop integrates the fastest and powerful AMD Radeon RX 560x  Graphics Card with 4GB video memory.
The graphics card is tested and proven in offering hands down gaming experience. The laptop offers higher-level gaming performance due to its all-star gaming specs. The specs and functionality it adheres are developed for the sole-purpose, enhanced gaming experience.
The gaming beast is powered with the AMD Ryzen 5 2500U quad-core processor. The latest architect processor is good at processing and outplays others when it comes to heads to head gaming experience.
The laptop features 8GB RAM that is enough for a gamer to play any game without any issue. If you are curious about having it extended, get the right use of the extra slot and increase the size as per your pocket size and need. You will get 1TB 7200 Rpm SATA hard drive to store anything you wish.
It shares a 15.6 inches Full HD display with IPS panels, wide viewing angle and anti-glare coating. Experience true immersion, watch any movie or see the game world with consistent, brilliant color and amazing viewing experience.
The laptop has a Nitro Sense patented monitoring system that monitors your computer's performance in real-time. The system covers temperature, fan speed and much more.
Gaming Benchmarks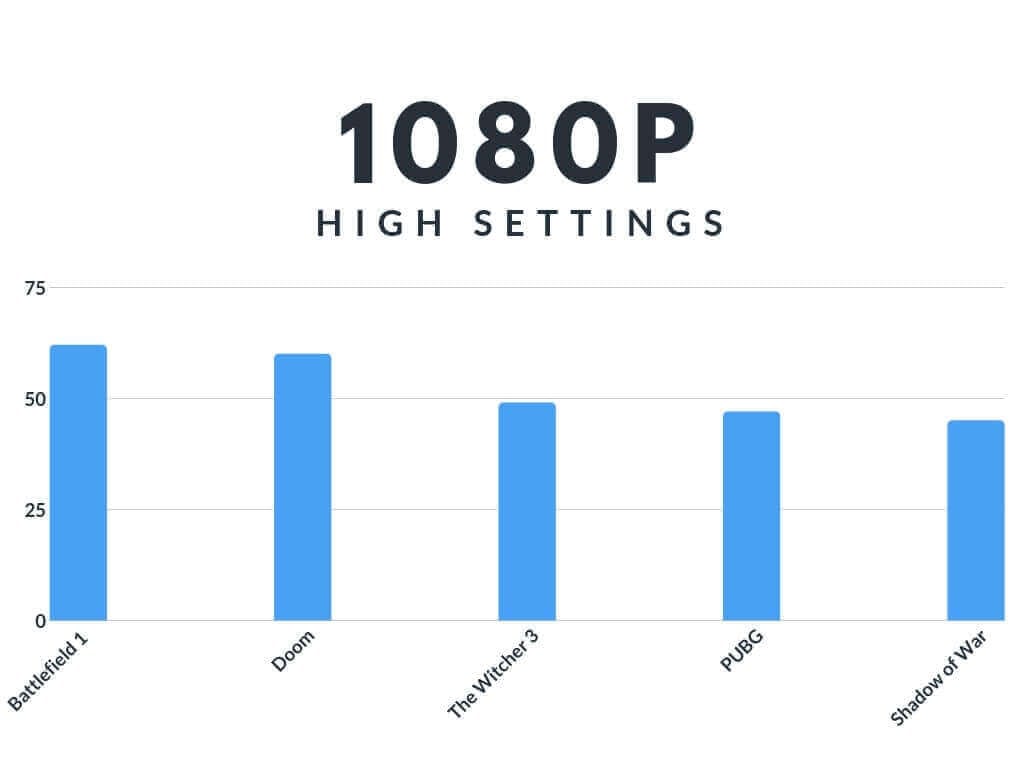 HP is a respectable name in the computing market and has produced a wide array of well-known and high-quality gaming laptops. The Pavilion series is an opener of this brand and has always been a crown jewel of the company.
Its Pavilion series have always been received with positive feedback from the users and critics alike. So, you need not worry about the durability of the laptop as you are getting your hands on one of the most ranked brands in a computing world.
From first glance, Hp Pavilion 15 catches the eyes with its sleek, stylish design. The technical aspect of the laptop is really amazing and you would happily purchase this machine.
The laptop is equipped with Nvidia GeForce GTX 1050 which is a surprisingly great offer in this range. Hp Pavilion 15 can run any modern game without any glitches.
The most loved aspect would be its 8GB DDR4 RAM which is quite a memory and can run almost all tasks without a single hiccup. The laptop never lags or freezes and you would see it from your own eyes.
HP Pavilion 15 is equipped with Intel Quad-Core i5-9300H, the fastest processors in these days. The laptop has a 256 SSD drive, for holding bigger files and video games. You will never think twice to save all your favorite games.
You will 15 inches Full HD anti-glare IPS display to enjoy to the gaming experience. What you can expect more for a 600 dollar gaming laptop.
Gaming Benchmarks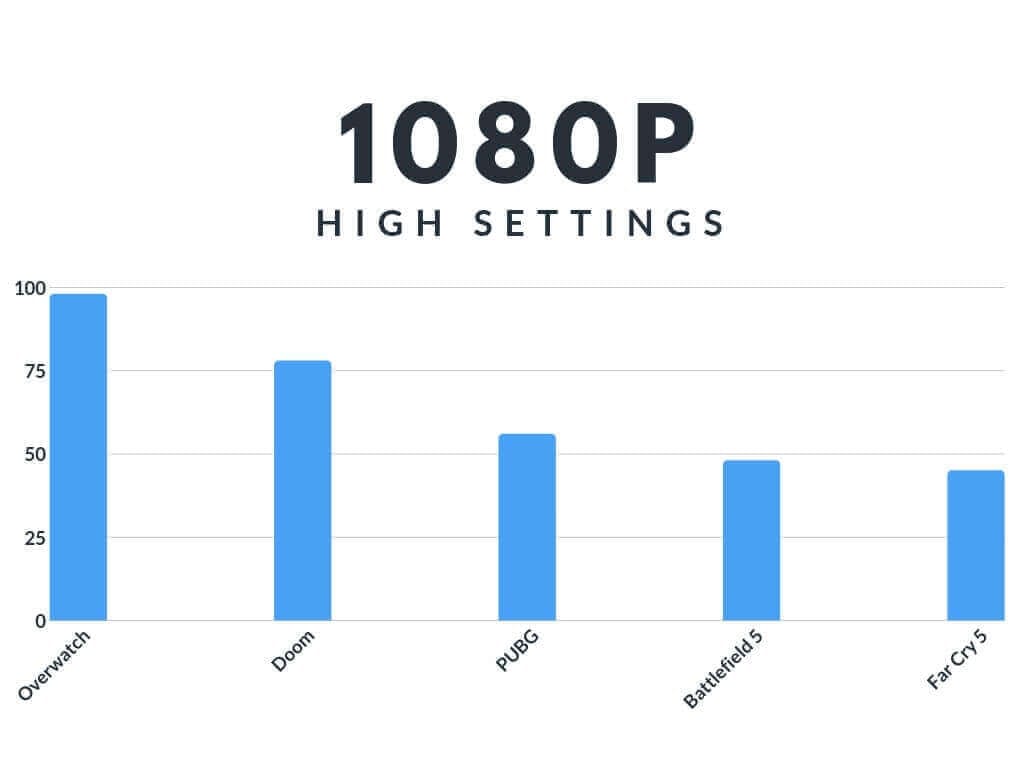 ASUS is a top-ranking brand in gaming as well as other niche laptop manufacturing. The list of top laptops under 600 dollars also includes many of them. No doubt, its laptop is sturdy and outshine in gaming and other casual performance.
Asus Vivobook 15 comes with all bells and whistles a gamer would need. It has a powerful processor, a dedicated graphics card, ample RAM size, and a good SSD section. The laptop hits the right chord and falls right on any gaming criterion.
This gaming laptop comes powered with AMD Quad-Core R5-3500U CPU. The processor comes with multiple threads to handle complex and heavy processing. It also integrates a dedicated visual department in the shape of AMD Radeon RX Vega 8 graphics card.
The storage section is settled amazingly. You get 1TB HDD with 128GB SSD. Speed and storage both under one chassis, store anything without losing speed.
It is the lightest laptop, believe me. With weighing around 3.5 pounds, you could have it anywhere around the world without evening feeling it in your bag. The laptop shares an extra slim bezel, with a frameless Nano edge display to keep boost the user's video and gaming experience.
It bolsters innovative Ergo Lift design that offers seamless typing experience. Have it onboard for continuous typing, you would not feel any disturbance in gaming or using the keyboard. The laptop provides you great gaming performance and helps you go through any level of gaming without any break.
Gaming Benchmarks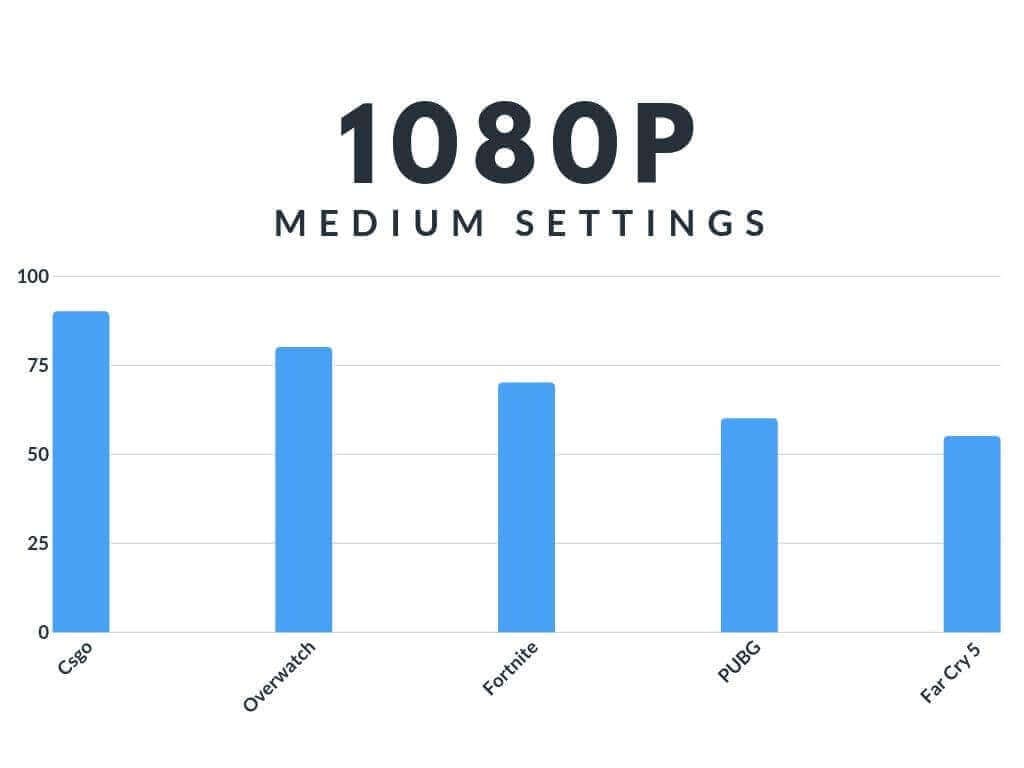 Dell is a well-established brand in the world of laptop manufacturing. Its sturdy built laptops in every price bracket offer good value of the user's hard-earned money. Dell G3 shares powerful specification including durable build quality. It comes with a beautiful matte black finish with Blue accents.
The laptop shares the latest 8th generation i5-8300H CPU processor. The quad-core processor with 8MB cache and 4.0 GHz turbo boost speed is going to amaze you with its performance.
The $600 gaming laptop is coupled with 8GB RAM. The laptop is further assisted by a 256GB SSD storage and runs Windows 10 home basic version. The RAM and storage also come with extra slots, users can add storage or ram if needed.
The visual department of the laptop is taken care of generously. The laptop comes with an NVidia GeForce GTX 1050 graphics card of 4GB video memory. The GPU section makes you emerged victorious in hard gaming sessions, where a single rendering or freezing can turn the sides of the table.
This laptop also integrates a 15.6 inches Full HD screen with Anti-glare LED-backlit and IPS panels. The Display is impressive, an immersive video gaming or video watching experience is at your disposal.
The keyboard is Backlit enabled to help you conveniently continue gaming or typing in dim light condition. Now, the low light conditions would not halt hindrances in your typing or gaming sessions.
Gaming Benchmarks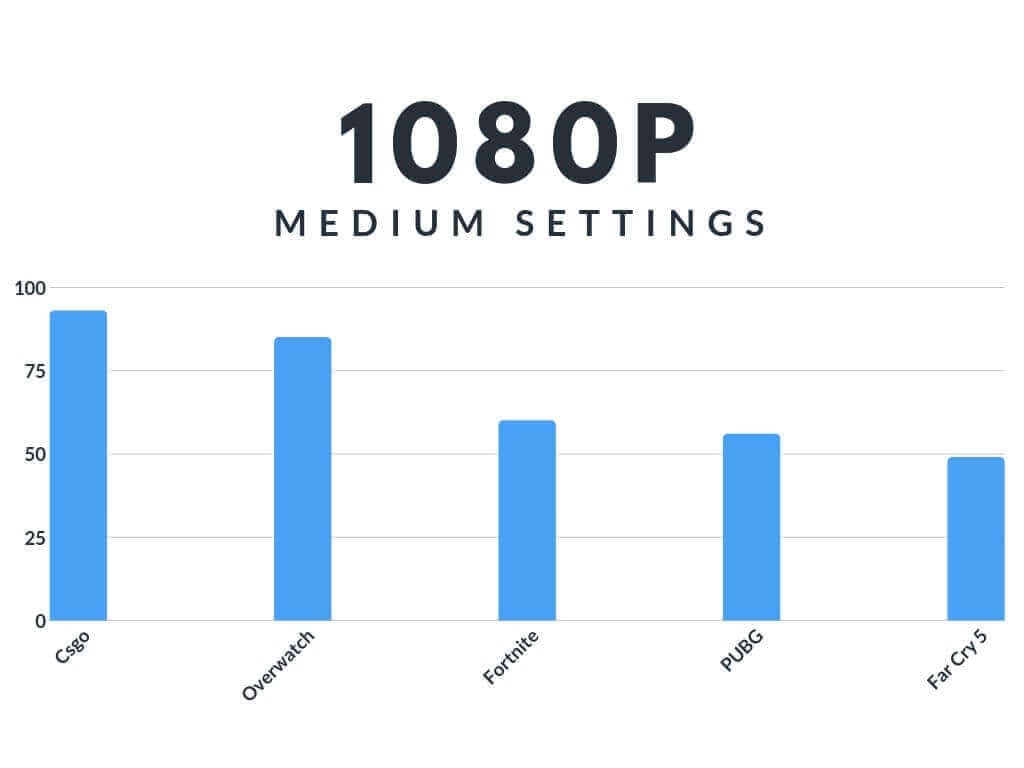 Asus is known for producing a quality product. Asus VivoBook S15 is an exemplary product that has given immense popularity to the brand. The laptop shares a modern built, sober-looking design and you will love to have the gaming machine around.
It comes in exciting hues, a plethora of color options to choose from. It comes in so many bold accents, whatever your desired color is, the brand will have something to compliment your ambiance. Yes, from its look, it might not pose a gaming laptop look, but when it comes to real-testing, it stands heads and shoulders above.
This is one of the cheapest gaming laptops under 600 comes powered with Intel Core i5-8265u Processor with 6M cache and up to 3.9Ghz clock speed. The latest generation mobile processor is at your disposal and helps you go through what lies ahead whether it is heading to head gaming or video editing.
It also bolsters 8GB DDR4 RAM and 256GB SSD storage. The RAM size is enough to provide immense of multi-tasking, if you feel like upgrading the RAM, the extra slot available fits your needs. The storage size as well is enough to provide sufficient storing capacity; the portion can also be extended using the extra slot.
With its 15.6 Inches, Full HD display integrates IPS panels with Slimmest NanoEdge bezel. The screen offers an 86-Percent screen to body ration that lets it accumulate boundless visuals no matter the content.
The gaming laptop comes with a backlit enabled keyboard. The perfect keyboard helps you go through any amount of typing work in a dim environment, the key travel speed is super-fast; 1.4mm.
The ASUS S15 features Ergo Lift Hinge design. The innovative design raises the keyboard and renders an improved typing position and an optimized cooling system. At the price of 600 dollars, the laptop is a hands-down steal. Do not pass the gaming beast, have a check at least once.
When we look at a budget gaming laptop under 600 dollars, in my opinion, it would be really hard to beat this Acer Aspire E 15. This gaming laptop got really positive reviews and one of the most selling machines on Amazon.
Everything that comes with this laptop really stands out in the massive crowd. Every feature of this laptop has been chosen very carefully and powered with the state of the art technology. Either its GPU, which has been changed from the previous model or the IPS technology on the back-lit, you would really love to have this powerhouse of the Acer Aspire series.
For fulfilling your gaming needs, the GPU of the machine has given a major shift. The previous model was powered with the GeForce GTX950M but this has been powered with the NVIDIA MX150, which probably has better FPS and intensive gaming optimization.
To cope with the multiple functions and processes at one time, the laptop is equipped with 8GB DDR4 RAM, which surely boosts multitasking. Acer Aspire E 15 has (8th Gen) Intel Core i5-8250U Processor which is actually a fine grab. Having the latest Intel processor generation in the price range of $600 would be not lesser than a treat.
Though hard disk is a little drawback, and you would think what the hell can be stored in a 256GB of the hard drive. But, think twice, the speed of SSD hard is three times faster than an HDD hard, and you are going to get a boost in your gaming speeds with an SSD hard.
The  2GB NVIDIA GeForce MX150 graphics card is more than enough to run average level video games even AA series games would get a smooth run. Being the flagship gaming laptop by Acer, the famous powerhouse, you can expect at least 15 hours of battery life, which is an impressive feature for those who use to perform tasks while traveling.
Apart from all this, the Acer famous True Harmony feature of the machines going to offer you a splendid audio quality and mesmerizing multimedia experience. With 15.6 Inch full HD and 1920 x 1080 resolutions, you are going to blow away by this amazing gaming machine.
So, for those who are finding it hard to get a high-end gaming machine, Acer Aspire E15 offers you one of the best multi-purpose and cheapest gaming laptops in this whole list.
Acer Aspire E15 in an excellent gaming machine, the only drawback was its weight. The weight of the machine really halting the way becoming the top choice for travelers, and that may be the reason the Acer brand decided to come up with the next level of a gaming machine with the name Acer Aspire 5.
The laptop has the same power-packed specification as its elder brother but with low weight and less battery backup. Maybe the battery was adding up lots of weight and this has been lowered down to up to 6-7 hours of normal day-to-day tasks.
The look of the laptop has also been changed; it has a clean design with black metal finished chassis, which make this laptop a good looking gaming laptop for $600 price range.
If we talk about the other aspects which this laptop is equipped with, 15.6 inches Full HD widescreen and LED-Backlist display with the resolution of 1920 x 1080. The laptop runs the latest Windows 10 home basic and powered with the Intel 10th generation processor i5-10210U processor.
In some ways, it is evident that all the features which were hurdling Acer aspire E15 in making it the hot choice have been installed in Acer Aspire 5.
With Intel MX 250 Graphics and 8GB of DDR4 RAM is enough to run AA series video games and handling the multitasking without any hiccup. With 512GB PCIe NVMe SSD hard and all necessary USB ports, this has become one of the hottest choices among average level gamers.
This laptop has been specifically designed for traveling purposes, the weight has been lowered down, the clock speed improvised, and the backlit display has been installed. What more you want to have from a great gaming laptop for $600 price.
The battery backup though is lesser than its elder brother but comparatively better than other laptops that come under the category of $600 gaming laptop.
So, both Acer Aspire E15 and Acer Aspire 5 are fine creatures, you can have any of them to fulfill your gaming needs and day to day tasks needs such as browsing the internet, compiling research papers, watching videos and listening to the music.
Dell has been a front runner of gaming laptops. This brand emerged victorious when it comes to premium gaming laptops to budget gaming laptops.
There are specific features that you can expect from Dell, like battery backup, audio speakers quality, and multitasking. Though this varies from machine to machine, Dell Inspiron 15 5000 is a fully powered packed laptop.
Dell Inspiron 5000 without a single shadow of doubt beats everyone in this list when it comes to looks. If you just look at the design you will get to know why this laptop has earned so much value in his users. It is a silver chassis with a black logo on its lid, which gives a rich feel.
Now, come to the hardware specifications, it has Intel fastest Quad Core i5-8265U processor clocked speed up to 3.9GHz. The laptop is capable of running average video games as it has Intel UHD Graphics 620 with 8GB DDR4 of RAM.
The combo of 256GB SSD and 1TB HDD storage offers you enough space to store your AA series video games, personal and professional files without any storage issue.
This laptop has 15.6 inches full HD Backlist display which makes you watch anything with clearest visuals. It comes with Windows 10 installed and has almost all the necessary ports or connectivity to make your life easier than before.
The battery backup is not up to the Dell criteria, the laptop can only bear 5-6 hours of the normal day-to-day task before injecting the charger. And obviously, if you are going to game on this you have to inject your charger for sure.
What features do you expect from a $600 gaming laptop?